Five Stylish Cat Litter Box Solutions
No matter how much you love your cat, there's one element of living with felines that all owners can agree is unpleasant – the litter box.
But kitty litter is getting a makeover. Pretty litter boxes, covers, and cabinets are becoming hugely popular with cat parents who want to prove it is possible to inject an element of style into even the most unglamorous elements of cat ownership.
Across the globe, crafty cat owners have come up with feline-friendly features for their cat's bathroom that can be attractive and tastefully integrated into the home.
As well as covering up a functional and often unattractive item, concealing the litter box can also give your cat a little extra privacy and cut down on litter scatter and smells.
Ready to start thinking inside the box? We've rounded up some examples of creative approaches to hiding cat litter boxes. Treat them as inspiration to give the humble litter tray a touch of style and make the cat litter clean-up more manageable.
Modern Living Room Litter Box
If anything proves a litter box can be both elegant and functional, it's this mid-century inspired litter box cabinet from Etsy seller PinkBau. This sleek home accessory will fill even non-cat owners with envy.
Why we love it: This modern cabinet can also be used as a side table and cozy hideaway for your cat.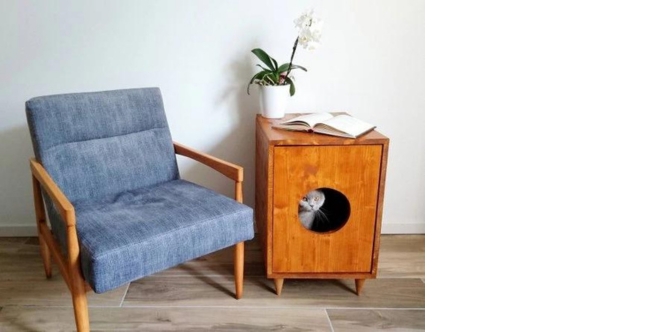 Cabinet Upgrade
This stylish storage cabinet is incredibly multi-functional. The doors hide any cat litter mess and odor, while the tabletop serves as prime surface area to showcase feline art, photos, or accessories. Take inspiration from the lifestyle blog Salty Canary and convert a piece of everyday furniture into a clever cat bathroom.
Why we love it: Hiding in plain sight, this cabinet is a chic solution for smaller spaces or apartments that might not have extra space.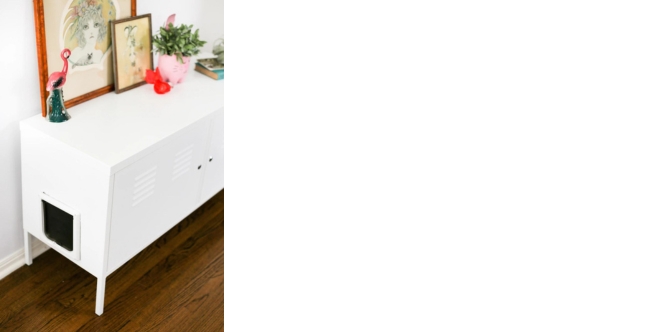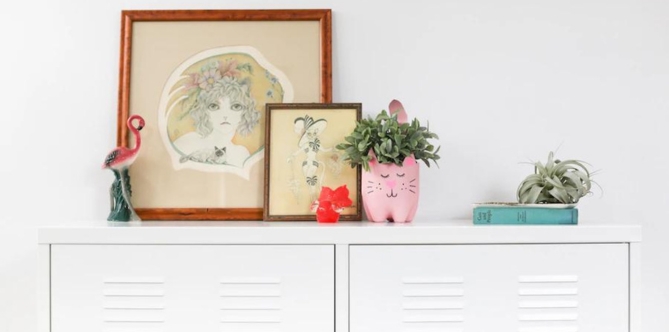 DIY Litter Box Cover
If you're a crafty cat parent, you can also design and build your litter box solution just like this one. Nothing can demonstrate your love and affection for your feline than building a lovely litter box cover. If you opt for this route, let this design from A Beautiful Mess inspire you.
Why we love it: The adorable entrance shaped like this marks your cat's territory. Plus, this simple design can be easily customizable to suit your space.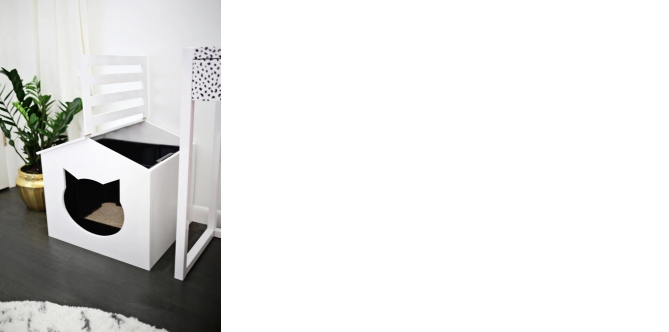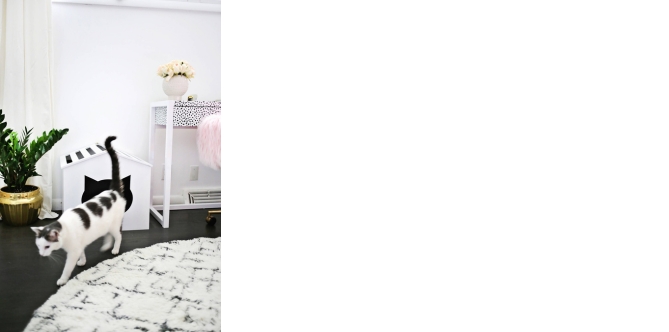 Cupboard Conversion
Another clever DIY option is using furniture you already have, which is exactly what Dana from House Tweaking did. By repurposing any enclosed piece of furniture like a cupboard, you'll create a private space for your feline friend to do their business without having to compromise the aesthetic of your home.
Why we love it: This simple creative update to a cupboard is a win-win solution. It gives your cat a piece of privacy, and the top shelves can be a great place to store cat bits and bobs.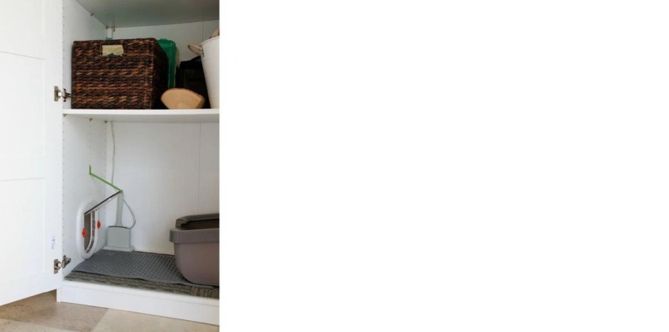 Planter Look-Alike
If you're looking for a nifty way to conceal your litter box so it's not right out in the open, this Hidden Litter Box could be an attractive option or at the least, give you inspiration when disguising a planter of your own.
Why we love it: It's designed to look like a house plant to cleverly become part of your décor. The plants on top look just like the real deal and get bonus points for never needing to water them.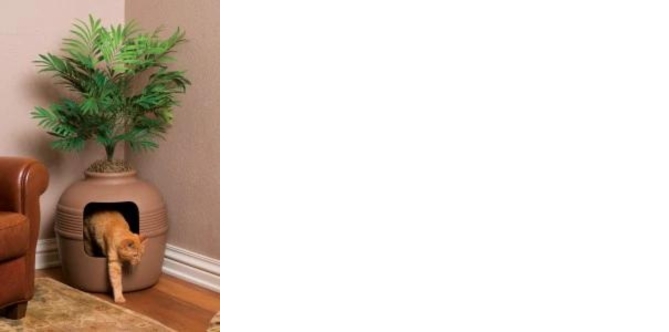 Nestlé Purina is not affiliated with the pet bathroom suppliers featured in this article, nor responsible for their products and materials, including content on their websites.